Creative Sound Design, LLC is an audio production company founded by Frank Bry in 1993 with digital sound sample offerings for Digital Sampling Keyboards. With the success of these libraries, the company expanded by offering digital sample CD-ROMs for the Emu Emulator IIIx, Emulator IV, synthesizer programming for Waldorf Electronics and Emu Systems, and custom sound effects design for video, film, radio and television. He then expanded into custom sound effects design and recording for leading sound effects CD developers.
The Recordist website was introduced in 1998 and has since become one of the largest and most well known boutique sound effects providers for the film, television and video game industries. The Recordist is the ultimate in High Definition Professional Sound Effects.
Frank Bry Bio:
Creative Sound Design evolved from Frank Bry's beginnings as a musician in rock bands, as a live sound engineer, and as owner of his own recording studio. Frank moved from Massachusetts to Seattle in 1989 and began recording sound effects for sound libraries and doing sound design for video and radio. He also continued to work as a recording and mixing engineer for record projects and to create digital sound sample offerings for digital sampling keyboards. He expanded into custom sound effects design and recording for leading sound effects CD library developers. While working for Starwave Corporation as its lead sound designer, Frank worked on his first game project, Castle Infinity. After leaving Starwave, he did his first independent game sound design for Cavedog's Total Annihilation.
Using his imagination, creativity, and technical expertise as well as his background in music and sound recording, Frank has recently been the sound designer for THQ's Supreme Commander, Microsoft's Dungeon Siege Series, BioWare's Neverwinter Nights and Nintendo's Metroid Prime series.
Many internationally known artists and media companies such as Los Lobos, Michael Gettel, Private Music, Narada Media, Microsoft, Valve Software, Starwave Corporation, Cavedog Entertainment, Humongous Entertainment and countless others have included our unique sound elements in their products.
Selected Multimedia and Video Game Titles:
Widows (Feature Film) Sound Effects Recording
Wolfenstein II: The New Colossus (2017) Weapon Sound Recording
Battlefield 1 (2016) DICE/EA (Thanks to)
Call of Duty: Advanced Warfare (2014), Activision. Sound Design, Weapon Recording
Battlefield 4 (2013), DICE/EA. Additional Sound Recordist
Duke Nukem Forever (2011), 2K Games, Inc.
Donkey Kong Country Returns (2010), Nintendo of America Inc.
Guitar Hero: Warriors of Rock (2010), Activision Publishing, Inc.
Monday Night Combat (2010), Microsoft Game Studios
Supreme Commander 2 (2010), Square Enix, Inc.
Demigod (2009), Stardock Entertainment, Inc.
Space Siege (2008), SEGA of America, Inc.
Metroid Prime 3: Corruption (2007), Nintendo of America Inc.
Supreme Commander (2007), THQ Inc.
Supreme Commander: Forged Alliance (2007), THQ Inc.
Dungeon Siege II: Broken World (2006), 2K Games, Inc.
Dungeon Siege: Throne of Agony (2006), 2K Games, Inc.
Dungeon Siege II (2005), Microsoft Game Studios
Unreal Championship 2: The Liandri Conflict (2005), Midway Home Entertainment, Inc.
Armies of Exigo (2004), Electronic Arts, Inc.
Axis & Allies (2004), Atari, Inc.
Kohan II: Kings of War (2004), Gathering, Global Star Software Inc.
Metroid Prime 2: Echoes (2004), Nintendo of America Inc.
Unreal Tournament 2004: Editor's Choice Edition (2004), Atari, Inc.
Dungeon Siege (2002), Microsoft Corporation
Metroid Prime (2002), Nintendo of America Inc.
Neverwinter Nights (2002), Infogrames, Inc.
Unreal Championship (2002), Infogrames, Inc.
Magic Artist Deluxe Cartoon (2001), Disney Interactive
Magic Artist Deluxe (2000), Disney Interactive
Total Annihilation: Kingdoms (1999), Cavedog Entertainment
Total Annihilation: The Core Contingency (1998), Cavedog Entertainment
Total Annihilation (1997), GT Interactive Software Europe Ltd.
© Creative Sound Design, LLC/Frank Bry.
All other trademarks are property of their respective holders.
The Studio and Equipment
Located in the mountains of North Idaho is our comfortable digital recording and sound design studio. After the sound effects are recorded on location and carefully cataloged, they are meticulously edited for inclusion in our massive High Definition sound effects libraries. Only the finest takes are kept and mastered. Now the magic begins… each sound is creatively sculpted to create exceptional material for the Ultimate HD Professional Sound Effects Libraries.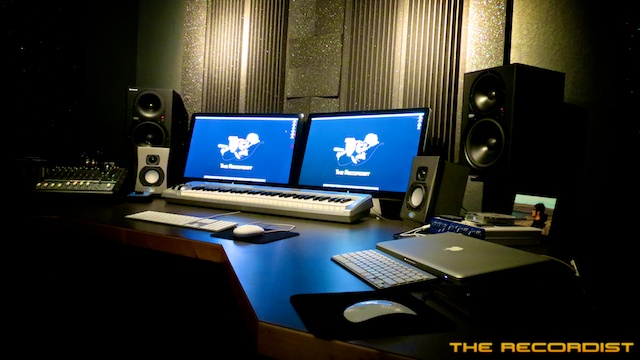 Equipment:
Avid® Pro Tools HD Native/Thunderbolt
Avid® Pro Tools® HD 12 – Mac OS X
Avid® Omni Interface
Computers:
Apple iMac Pro 27″
Apple MacBook Pro 15″ Retina Core i7
Apple 27″ Thunderbolt Display
Apple 27″ LED Display
Apple 24″ LED Display
Apple Mac Mini i5 (2013).
Software & Plug-ins:
Avid® Structure Sampler Plug-in
Avid® ReVibe Reverb
Avid® Hybrid Synth Plug-in
Neyrink SoundCode for Dolby Digital®
Neyrink SoundCode Stereo LtRt
Minnetonka SurCode for Dolby® Pro Logic® II
Waves Platinum v9.0 Native
Sound Toys v5
Soundminer v4.5 Pro
SPL Transient
Sonnox Oxford Inflator
Sonnox Oxford TransMod
Sonnox Oxford Envolution
FabFilter Plugins
iZotope RX-7 Advanced
iZotope Alloy 2
iZotope Ozone 5
Apple FCP-X
Hardware:
Mackie HR824 Monitors
Blue Sky Media Desk 5.1 Monitors
Sound Devices 744T Field Recorder
Sound Devices 702 Field Recorder (3)
Fostex FR-2 24 Bit Field Recorder
Sony PCM-D1 Linear PCM Recorder
Sony PCM-D100 Linear PCM Recorder
Sony XLR-1 Microphone Pre-amp
HHB CDR-830 CD Recorder
Sanken CSS-5 Stereo Shotgun Microphone
Sennheiser MKH-416 Shotgun Microphone
Sennheiser MKH-8020 Microphone
Sennheiser MKH-8050 Microphone
Sennheiser MKH-8060 Shotgun Microphone
Sennheiser MKH-8040 Microphone (2)
Sennheiser MKH-8040ST Matched Stereo Pair (2)
AT BP-4025 Stereo Microphone
AT-835ST Stereo Shotgun Microphone
K-Teck Klassik K-102CCR Boom Pole
K-Teck Avalon KE-69 Boom Pole
Lightwave Boom Pole
Rycote Boom/Grip/Windscreen (14)
E-mu Emulator IIIx Sampler
Mackie Onyx 1220 Mixer
Line 6 POD Pro
(57) OWC Firewire hard drives
(5) Sony MDR-7506 Headphones
Testimonials from The Recordist Website:
Firstly, the sound editing team here at Big Bang Sound Design (including myself) are massive fans of your recording collections. They are truly second to none.
Currently we're in the final push on MAD MAX: Fury Road and I can tell you first hand that we're using a huge amount of your recordings in the track lay.
I personally have been using all of your Gun recordings from Firearm Foley (including Vintage) ,Bullets, gun tails, Machine guns, and Gunscapes. They are SO GOOD!! and the accompanying pictures are really useful for someone like me who has very little hands on experience with firearms. You are the best!
Andrew Miller, Big Bang Sound
I used your Gunscapes and Foley Pro for our game Killshot (iOS/Android). Your sounds were awesome. I love the separated mics as well as the processed files. Thanks so much for making my job easy. I tell all my audio friends about your libraries. Killshot is the #1 downloaded game in 55 countries and one of the top 10 downloaded games in 150 countries.
Adam Gejdos
Audio Director and Composer at Hothead Games
Frank's recordings fill the gap in what's available with the bigger name general libraries we all tend to fall back on. Pristinely recorded and meticulously labeled, these sounds make short work of finding exactly what you're looking for.
Whether you're editing backgrounds or repurposing sounds for the sake of design, the higher quality the source, the better the end result. The Recordist provides exceptional raw material for building really stand-out soundtracks.
I can't recommend Frank's libraries enough and find myself reaching for them eagerly and often!
Jonathan Lipman, M.P.S.E
(Sony Pictures, WB, Wildfire Studios)
The Devil Dog HD Pro SFX Library:
Frank Bry just announced a library of a very interesting Bull dog- it sounds really great- and has a broad range of great aggressive utterances, and I would say it is some of the most interesting animal vox I have heard in years, check it out, I think it is brilliant.
– C. Maynes
Man, I couldn't stop laughing the sounds are so strange! That's some crazy zombie action going on there.
– Chris M. Jacobson, CAS
These are great. I was laughing all the way in the demo clip but I got to 1:57 I just was LOL in tears. The final part is awesome, too. If I ever need alien creature stuff this is definitely first choice. Just to clarify, these sounds are only hilarious because of the adorable dog producing them. The photo helps a lot, too. In any other context these would scare the sh*t out of Chuck Norris.
– nuclear
When I first listened to it, I couldn't believe that this is a real dog, I just had to look at the picture again. Very good stuff.
– Tamas Dragon
Oh geez. Thanks so much for the laughs today. That was great! I'm wiping tears from my eyes over that poor doggie. Hilarious. Can't wait to whip out the pitch control!
– Jeff
Bullets HD Pro SFX Library Review: the level of detail he goes through to achieve some of these sounds…The results of what he achieves are so creative and so usable that it goes beyond what the usual recording would capture." At – 44:00 Sound Library Review II.
GameAudio Podcast Episode 27 – Feb 18, 2013 http://www.gameaudiopodcast.com/?p=542
Bullets HD Pro SFX Library is simply amazing. The recordings are so clean. I already purchased a few sfx libraries from "The Recordist" and was expecting something great from Frank but this library is a must have. I do mainly animation and it will be useful as zap in, zap out, cartoon impacts, tennis and badminton or any sports hits, heavy grabs, pass bys… And you never know I might use it for gun bullets too. – Serge Hamel: Mixer / Sound Designer
"Superbly recorded! Frank, your sounds are welcome additions to my library, and you have a knack for releasing sounds that I happen to have an immediate use for. It's clear you give your recordings a lot of thought and care. Couple all that with stellar locations and a great price point, and I've found myself to be quite the repeat customer. Keep 'em coming!!"
David Farmer – Sound Designer, Editor and Recordist
The Lord of the Rings, King Kong, Cowboys & Aliens, Underworld, BioShock 2, God of War III
"Frank is very good at what he does, and there are very few recordists with his track record of excellence. If there is one library that is worthy of having an open account on- His is it. And he is an awesomely great guy as well… I am very jealous that I don't have a tractor like his!"
Charles Maynes – Sound Designer, Editor and Recordist
Letters from Iwo Jima, Spiderman, The Fantastic Four, Tomb Raider and a few others…..
"Great recordings, many hard to find FX, and at a very reasonable price! Thanks so much Frank. Great stuff!"
Shannon Mills – Supervising sound editor, Skywalker Sound
Avatar, Iron Man, Saving Private Ryan, Toy Story 2, Monsters Inc.
I just downloaded Ultimate Fire and it's ****ing awesome. (I don't usually swear on professional forums, but it is in fact ****ing awesome) (Oh good, auto censor…saves me the dilemma of whether or not I should say ****)
Peter Steinbach – Sound Designer, via Gearslutz
Halo: Combat Evolved 10th Anniversary
"Many of you already know what the "Ultimate" word means in the sfx world…More fun from The Recordist!"
Miguel – Designing Sound Website, 2011
I'd been looking for a proper Thompson sound library for months, and had to put off a project for a whole year due to not being able to complete it the way I wanted to. I read about your Thompson Machine Gun HD Pro SFX Library, purchased it this morning, and am absolutely blown away (no pun intended) by the quality, dynamic range, and versatility of the supplied samples. I can FINALLY finish that project and give it the kick it needed! Truly fantastic stuff. Can't wait to purchase the other gun packs you have available when I've a few more dollars to spare.
Fergle Gibson • www.payneandredemption.com • www.imdb.com/title/tt1986097/
I'm a french sound designer and I just wanted to congratulate you for the quality of your libraries. Your work is the best I've ever heard and it's a pleasure to use your sounds to create things (I mostly work for video games). Don't change anything and keep that level of result! I will continue to buy.
Nicolas Signat